Sunday 10 February - Sporting Clays Competition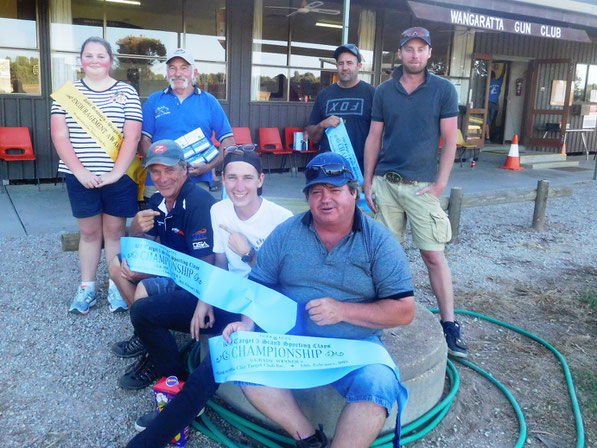 Left to Right Standing:  Hannah Wojtowyez, Phil Wojtowyez, Mark Irvine, Chris Thompson.
Sitting:  Graham Coker, Rhys McGauran, Allan Seccull.
Big Turnout for Sporting Clays Competition  
Twelve squads of shooters enjoyed perfect conditions at the Wangaratta Clay Target Club's Sporting Clays competition on Sunday the 10th of February. The surprisingly large entry kept the club's volunteers on their toes. Anton Motha, Col Crittenden, Graham Coyle & Jacob Motha were at the club bright and early to set up the traps and were kept busy all day refilling them with targets. Linda Motha and Ernie Williams were run off their feet maintaining the entries and results and Anita Klima had the canteen in overdrive keeping the crowd fed.
The mild weather made a pleasant change from the extreme heat of the past couple of events and it was great to see so many people sitting in the shade, watching their fellow competitors in action. Competition was tight throughout the day, with the winners in all grades decided by only one target.
Local shooter Brett Jory took AA Grade and the overall win. His 93/100 just edged out Chris Thompson, another local, on 92/100.
A Grade went to Alan Seccull with 83/100 from Mornington SCA shooter Peter Wilkie on 82/100.
In B Grade, a shoot-off was needed to sort out a three way tie between regular visitor Graham Coker, Trevor Jones and Phil Wojtowyez. When the dust cleared, it was Coker on top with 85/100 from Corowa's Wojtowyez in 2nd on 84/100.  
As happened at the January competition, Field & Game shooters once again dominated the C Grade results. The Cobram club's Mark Irvine took the win with 68/100 from Geelong's Ron Duncan, who was unavailable for a shoot-off, also on 68/100.
Top scorers on the day were, Overall, Brett Jory 93/100, Veterans, Ron Purss 86/100 & Juniors, Rhys McGauran 90/100.
Hannah Wojtowyez received an encouragement award in recognition of her persistence and great effort throughout the day. It's always good to welcome juniors to our club, especially females. The club is currently running introductory sessions for women and girls over 12 years of age. Participants must register for the sessions by completing an online form. To do so and to find out more details, visit Sport North East at: http://www.sportnortheast.com.au/shoot/
Saturday 19 January - Down the Line Competition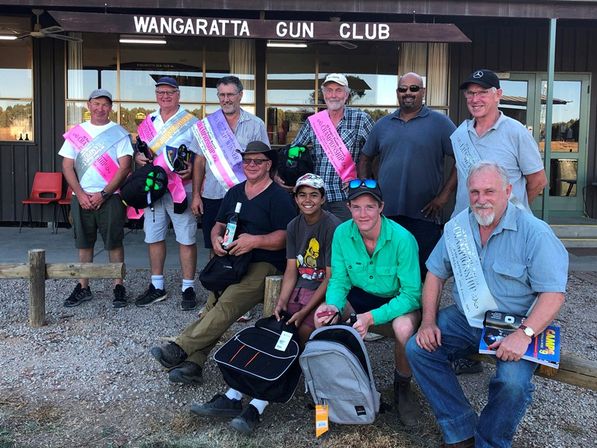 Standing L to R:  Peter Watkins, Greg Pinner, Mick Rowan, Peter Sunderland, Anton Motha, John Gray.
Sitting L to R:  Peter Gorrie, Matt Motha, Tom Davey, Barry Ellis.
Rowan & Pinner in Top Form at Down the Line Competition
Mick Rowan rarely leaves Wangaratta Clay Target Club empty handed and Sunday was no exception. He cleaned up in two of the day's three events, with fellow NSW shooter Greg Pinner spoiling Mick's chance of a hat trick by taking the third event. The day's competition had originally been cancelled, due to damage from December's storms. The generous loan of a state of the art Laporte trap by Bronzewing Australia allowed the shoot to be held.
Given the late notice of the shoot going ahead, low entry numbers might have been expected. However, there is great support for the Wangaratta club within the clay target community and it was encouraging to see six squads of shooters sign up.
Event 1 was the 25 Target Double Barrel. Seven possibles were shot, necessitating a shoot off to decide the placings. AA Grade went to Greg Pinner on 53/54 with local shooter Terry Pigram 2nd on 52/54. Mick Rowan took A Grade & Overall with 54/54 from the host club's president Anton Motha on 23/25. B Grade was won by Peter Watkins on 34/35 from St James regular Peter Gorrie on 25/26. C Grade went to Peter Sunderland with 23/25 from Tom Davey on 22/25.
Handicap events give all shooters an equal opportunity to shine and the day's 20 Target Handicap saw reliable junior Tom Davey rise to the occasion, going into a shoot off to decide the winner. Mick Rowan took that honour with 24/24 from Tom on 23/24. Third went to Greg Pinner on 42/42.
The final event was the 25 Target Single Barrel. Greg Pinner took AA Grade & the Overall win with his perfect 25/25 from John Gemmill on 23/25. John Gray was in the middle of a 1,000 kilometre round trip from his home in Tura Beach to pick up his new Perazzi High Tech from Grassi's in Oxley. He made good use of his new gun to take A Grade with 31/31 from Mick Rowan on 33/35. Peter Watkins took his second B Grade win of the day with 23/25 from Ken Birt on 22/25. Barry Ellis used his very old Winchester 101 to take C Grade on 20/25 from ever-improving junior Matt Motha's 19/27.
High Gun winners were, Overall, Greg Pinner with 69/70 and Veterans, John Gemmill on 65/70. 
It was a long day, but those present enjoyed relatively mild weather, sitting under the big trees with a cooling breeze. Even better, the club provided free lunch for the crowd, to make up for December's cancelled Christmas shoot.
Sunday 13 January - Sporting Clays Competition
Left to Right:  Peter Sunderland, Clayton Dennis, Ben Kuschert, Chris Thompson, Brendan Parker & Graham Coker
Clayton Dennis Beats the Heat at Sporting Clays
The Wangaratta Clay Target Club has shown that it is made of sterner stuff by recovering sufficiently from December's storms to stage its first competition of the year. The clubrooms and grounds were under water and much of the equipment destroyed. Barely a month later, the club has staged a very successful Five Stand Sporting Clays shoot, with competitors from as far afield as Geraldton in WA and St George in QLD.
Club vice-president Brian Reid has been up to his elbows in insurance reports, while President Anton Motha, son Jacob, Col Crittenden and Graham Coyle have toiled long and hard since the December storms, patching together sufficient equipment to get the club operational. Their work paid off, with six squads of shooters signing up for 2019's first event.
An occasional breeze provided some relief from the blistering heat and baking skies, but the conditions were no obstacle for West Australian visitor and SCA member Clayton Dennis, whose excellent 87/100 gave him the overall win.
AA Grade went to Chris Thompson on 73/100, with fellow Field & Game shooter Andrew Dundas 2nd on 55/100.
Clayton Dennis' Overall winning 87/100 also gave him A Grade, from yet another F&G shooter in Graham Coker on  81/100.
B Grade went to impressive junior shooter Ben Kuschert with 79/100 from local shooter Trevor Bussell on 75/100.
Brendan Parker made the trip down from Queensland worthwhile by taking C Grade with 76/100. A shoot off saw Peter Sunderland taking second place on 74/108 from Jordan Hanley. 
In spite of the heat, 42 degrees max, the day went off well and there was plenty of positive comment and encouragement from the visiting shooters. It was also great to see a good mix of organisations (ACTA, SCA F&G) represented in the results.