Saturday 17 November - Down the Line Competition
Standing:  David Luelf, Bob Foster, Trevor Hicks, Mick Rowan, John King, Alex Gobbo & Jacob Motha.
Kneeling:  Liam Shore & Matthew Motha.
Motha Crowned Champion of Champions at Down the Line Shoot
Great weather and a big pool of talent brought out the best in competitors at the Wangaratta Clay Target Club's Down The Line shoot on Saturday 17 November. The day consisted of four events, culminating in the annual High Gun Champion of Champions Shoot Off. High Gun winners from all of 2018's DTL competitions were invited to face off to decide this year's honour.
An eager bunch of 38 shooters fronted up for event one, the 30 target Double Barrel. AA Grade & overall went to Trevor Hicks with 30/30, the first of two possibles seen on the day. Second in AA went to impressive junior Liam Shore on 48/49 after a four person shoot off.  David Luelf took A Grade with 29/30, with Mick Rowan only one target behind in 2nd place.  B Grade was also decided by only one target, with Bob Foster in front on 28/30 from Brian Joy on 27/30.  C Grade saw Griffith Gun Club's Troy Adams victorious on 28/30 from Peter Sunderland on 26/30.
Event two was the 30 target Single Barrel. In AA Grade, James Vardanega's 29/30 also gave him the overall win and kept him clear of the shoot off for second between Alex Gobbo and Jacob Motha. Gobbo prevailed with 55/56.  A Grade also required a shoot off, resulting in David Luelf taking 1st place with 30/33 from yet another impressive junior in Brandon Guglielmino on 29/33.  Benalla's Anthony Plum won B Grade with 25/30 from Local shooter Luigi Rech on 24/30.  The seemingly never ending string of eagle-eyed juniors continued with Matthew Motha, in his first year of competition, taking the C Grade win on 26/30 from Griffith visitor Troy Adams on 21/30.
Event three, the 30 target Point Score, saw another possible being achieved, this time Liam Shore's 90/90, which gave him the AA Grade and overall win. Second in AA was Alfio Guglielmino with 88/90.  Mick Rowan took A Grade with 93/98 after a shoot off with Euroa veteran John King on 92/98.  B Grade went to Bob Foster on 81/90, with Anthony Plum in 2nd on 75/90. Troy Adams won C Grade with 73/90. Matthew Motha got the better of Tom Davey in a shoot off to finish 2nd on 70/94.
High Gun winners on the day were Alex Gobbo overall, Megan Grassi in Ladies, Bob Leita in Veterans and Liam Shore in Juniors.
The final event was the annual High Gun Champion of Champions. All previous High Gun winners who were present lined up to shoot two targets of each discipline shot throughout the year. The host club's Jacob Motha smashed all of his targets to become the overall winner and 2018 Champion of Champions. David Luelf dropped only two targets to claim the veterans' crown and Liam Shore grabbed the juniors' crown. Congratulations to the day's placegetters and thanks to all those shooters who support our club.  
Sunday 11 November - Five Stand Competition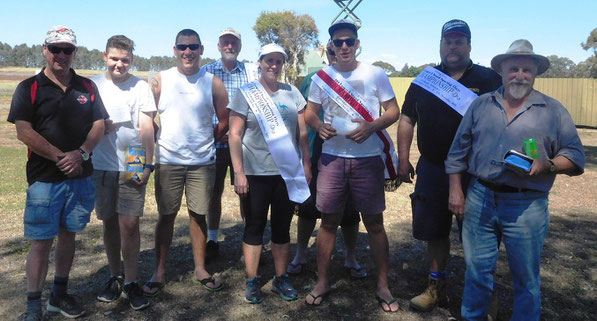 Andrew Harrington, Joe Forti, Alex Towns, Peter Sunderland, Gaye Shale, Marc Connell (Obscured),
AA Grade winner Adam Shale, Gary Byron & Barry Ellis.
Shale Shines at Five Stand
Perfect conditions greeted shooters at Wangaratta Clay Target Club's October Five Stand competition. The clear skies, lack of wind and interesting target layouts set up Graham Coyle and Col Crittenden provided an opportunity for big scores and Rutherglen's Adam Shale took full advantage. 
Adam shot perfect scores of 25/25 in three of his four rounds, missing only three targets all day to come out on top in AA grade with 97/100. Alex Towns, shooting back in Wangaratta for the first time since 2015, also managed one perfect round of 25/25 on his way to 2nd in AA Grade on 94/100.
Gaye Shale, Adam's Mum, made it a family affair by winning A Grade with 85/100, from Numurkah/Shepparton club shooter Andrew Harrington on 81/100.  
A shoot off was needed to decide B Grade after regular Wagga Wagga club visitor Gary Byron and Marc Connell both finished on 78/100. Gary, who also had to shoot off for B Grade at the October competition, took the win with 85/110 to Marc's 83/110. 
In C Grade, Peter Sunderland was 1st with 70/100, closely followed by Barry Ellis, once again using that lovely old Merkel of his, on 67/100.
The competitors were treated to an excellent day's sport and also to some delicious canteen food. The roast beef and gravy rolls were a big hit and rumour has it that the fruit cake is good for an extra few points on the score card.
Saturday 20 October - Down the Line Competition

Stamding Left to right: Ray Gamble, John Pieper, Brandon Pieper, Brandan Dickson, Robyn Langley, Michael Rowan,
Ken Birt, Graham Reed, Paul Kovacs, Rocky Furci, Rebecca Clinton, Will Kosch, Jacob Motha & Anton Motha.
Kneeling: Tom Davey, Matthew Motha & Peter Gorrie.
Good Turnout at October Down the Line Shoot
Twenty nine competitors signed up for the Wangaratta Clay Target Club's Down The Line shoot on Saturday 20 October. The day was sponsored by Spartan Global & Eurotarget, so there were excellent prizes up for grabs. Brent Waldron, operations manager for Spartan Global, was on hand to deliver the prizes and to show off some of his company's range of Yildiz shotguns.
As has been the pattern over the past couple of months, the weather was uncooperative. Six squads of shooters started their first event, the Eurotarget 25 pair Double Rise, with the clouds closing in and the wind gusting. Brandon Pieper came out on top in AA Grade with 37/50, closely followed by Graham Reed on 35/50.
Deniliquin club shooter Michael Rowan has an enviable history of taking home the silverware from Wangaratta and he did it again on Saturday. His score of 39/50 gave him not only A Grade, but also the overall win for the event. Robyn Langley, one of three ladies competing, was 2nd with 35/50.
In B Grade, Peter Gorrie hit 33/50 to take the win from Ken Birt on 31/50.
C Grade was fought out between two juniors, with Brandan Dickson's 31/50 just pipping Tom Davey's 30/50.
The second event, the Spartan Global 50 target Point Score coincided with a rain squall and even stronger wind, but the shooters kept to the task. AA Grade & overall was won by Jacob Motha, with an impressive 147/150, from Paul Kovacs on 136/150.
A Grade went to Numurkah/Shepp veteran Rocky Furci on 139/150 with Michael Rowan fronting up again with 137/150.  
Peter Gorrie added more of the sponsor's product to his growing collection by taking B Grade with 118/150 from the home club's Keith Brown on 113/150.
John Pieper won C Grade on 111/150, with Rebecca Clinton 2nd on 106/150.
The final event of the day was the Spartan Global 50 target Double Barrel and, to everyone's delight, the skies began to clear. The change brought out the best in the host club's president, Anton Motha. He was victorious in AA Grade and his score of 57/58, after a shoot off with Ray Gamble, also gave him the overall win. Graham Reed was 2nd in AA on 48/50.
A Grade went to Ray Gamble with his impressive 49/50 turning into 56/58 after the overall shoot off. Robyn Langley was not far behind with 47/50.
B Grade was a tight tussle, going Keith Brown's way with 43/50 from Ken Birt's 42/50.
C Grade saw Matt Motha emulate his Dad and big brother by taking a win. His 43/50 just edging out another talented junior in Brandan Dickson on 42/50.       
The High Gun winners were Jacob Motha Overall, Rocky Furci in Veterans, Robyn Langley in Ladies and Will Kosch in Juniors.
Sunday 13 October - Five Stand Competition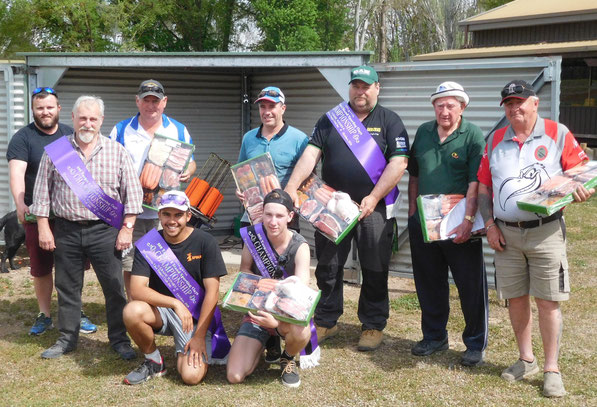 Standing: David Whyte Jr, Barry Ellis, Mark Reynolds, Rod Green, Gary Byron, Geoff Agnew & Vic Bowman.
Front Row Kneeling:  Jacob Motha & overall winner, Rhys McGauran.
McGauran in Top Form at Five Stand
Wangaratta Clay Target Club members have been hard at work lately. After running a sausage sizzle out the front of Aussie Disposals on Saturday, the crew fronted up bright and early on Sunday to stage the October Five Stand competition. Graham Coyle set up an interesting layout of targets guaranteed to keep the shooters on their toes. The wind was gusting throughout the day, but the sun was out and the grounds were in great condition.
The day's events consisted of 100 targets, 50 of which were shot on ground no.1 at medium ranges and another 50 shot on ground no.3 at closer ranges. Variety is the name of the game in Five Stand shooting and there was plenty of it on Sunday. High looping targets, fast flat targets and the so-called rabbit target zipping along at ground level. The volunteers at our club put a lot of effort into giving competitors a challenging and satisfying day.
Local shooter Rhys McGauran certainly rose to the challenge with his score of 89/100. It was more than enough to give him 1st in AA Grade and the overall win. Mark Reynolds was 2nd in AA Grade with 81/100.
In A Grade, two young guns made the most of their youthful eyesight, with Jacob Motha victorious on 82/100 from David Whyte Jr on 77/100.
A shoot off was required in B grade after Gary Byron and Rod Green finished equal. Gary eventually took the win with 81/110. It was Rod's first shoot off at Five Stand and he seemed quite pleased with his result of 80/110.
Barry Ellis used his intricately engraved German Merkel shotgun to take C Grade with 65/100. Ironically, the Merkel's 1958 vintage makes it one of the more modern guns in Barry's collection. A tie for 2nd in C Grade between Geoff Agnew and Peter Sunderland was settled in Geoff's favour with 55/100, a clear case of experience winning out over over youth.
The electricity was off in the whole North Wang area on Sunday, but even that didn't spoil the fun. A combination of portable generators, long extension cords and positive attitudes kept the show on the road. Anita, Joelle & Debra simply moved their kitchen skills outdoors and put on an excellent BBQ lunch for the competitors and crew. Just another great day at the Wangaratta Clay Target Club.      
Saturday 15 September - Down The Line Competition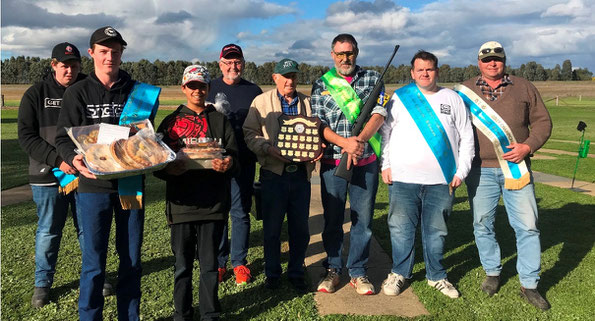 Left to right: Lachy McDonald, Tom Davey, Matthew Motha, Phil Matthews, sponsor John McGauran,
Michael Rowan, Jono Leahy & the day's overall winner, Clive Foster.
Foster Masters the Medley at Clay Target Club
The Wangaratta Clay Target Club's Down The Line shoot on Saturday 15 September was a blustery affair, with the swirling wind doing its best to unsettle the shooters. The skies threatened rain all day, but even the weather couldn't dampen the enthusiasm of the shooters that turned up for day's events, a 10 target Eye Opener, a 75 target Medley and the annual 25 target Dick English Memorial Handicap.
The Eye Opener carried a cash prize, so it was hotly contested. Sadly for anyone hoping to buy a new gun from the winnings, the prize was shared between six shooters. Angelo Grassi, Jono Leahy, Phil Matthews, Anton Motha, Jacob Motha & Michael Rowan all scored 10/10.
The 75 target Medley consisted of a 25 target Double Barrel, a 25 target Single Barrel and a 25 target Point Score. The variety of styles and the fluky weather kept everyone on their toes, but good scores were still achieved and some impressive shooting was produced. 
AA Grade and overall win on the day went to Clive Foster with 122/125. Phil Matthews was 2nd on 115/125.
In A Grade, Lachy McDonald won with 116/125. The club is working hard to encourage more female participation, so it was great to see Slap Comensoli in 2nd with 107/125.
B Grade saw Jono Leahy bust 104/125 with his new Redolfi, with St James veteran Jim Kelly in 2nd on 95/125.
A close tussle in C Grade came out in favour of Tom Davey on 96/125 from Matthew Motha on 94/125. Tom & Matthew, who is only 12 years old, are both juniors and they are impressing a lot of the old hands at the club. 
The Dick English Memorial Handicap is a long-established local event and is generously sponsored by Dick's brother, John 'Irish Jack' McGauran, who was on hand to present the prize, a Marlin .17HMR rifle. This year's winner was Michael Rowan with 23/25, closely followed by Aaron Chapman and Bobby Lambevski, both on 22/25.  It was a hat trick for Michael, who also won the event in 2017. Phil Matthews, off 25 metres, was top scoring backmarker with 19/25.
The High Gun winners were Clive Foster Overall, Peter Whitlock in Veterans, after a shoot-off with John Gemmell, and Lachy McDonald in Juniors. 
Sunday 09 September - Five Stand Competition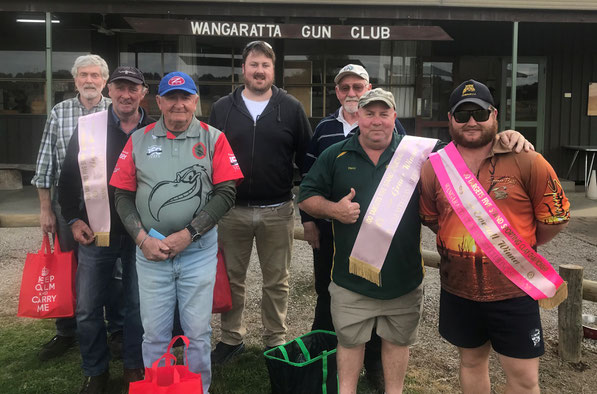 Left to right:  Peter Sunderland,  Max Kavanagh,  Vic Bowman,  Clinton Kneebone,  Col Kneebone,
Paul Weygood and overall winner, Brodie Seccull.
Success for Seccull at Clay Target Club
Brodie Seccull beat the challenging target layouts and his opponents to win Sunday's August Five Stand competition at the Wangaratta Clay Target Club. The Yarrawonga shooter missed only 6 targets all day to take the overall win. 
Shooters enjoyed the usual Wangaratta Clay Target Club combination of good company, great canteen food and, most importantly, interesting targets set up by the expert hands of Col Crittenden and Jacob Motha. Five Stand shooting is meant to stretch shooters' skills and the competitors were generous in their praise of target layouts and the club's friendly atmosphere.
Brodie Seccull's score of 96/100 gave him both overall honours and the AA Grade win.
A Grade was a battle of the veterans, with Max Kavanagh on 80/100 defeating the evergreen Vic Bowman on 77/100.
The Kneebones made it a family affair in B Grade. Dad Colin's 75/100 beating son Clinton's 69/100. Their prize packs of bakery goodies no doubt made the trip back to Wagga all the more  enjoyable.  
C Grade went to Albury visitor Paul Weygood on 73/100. Peter Sunderland was second on 56/100, proving that a lack of talent is not necessarily an impediment. 
The club's committee strives to provide enjoyable events and interesting prizes. The positive feedback and encouraging comments on the day indicate that those efforts are paying off. Practice is held on Wednesday and Saturday afternoons at the Wangaratta Clay Target Club, located behind the Vine Hotel at North Wangaratta. Why not come out and have a look.  
Saturday 18 August - Down The Line Competition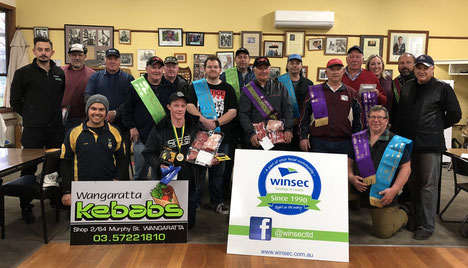 Sponsors Wangaratta Kebabs' Ahmet Ay
(End left) & Winsec's Tony Ruvolo (End right)
with the placegetters.
Rain No Obstacle For Clay Target Shooters
A good turnout of 36 shooters from as far afield as South Australia braved Sunday's inclement weather to enter Wangaratta Clay Target Club's August Down the Line competition. The day's programme was sponsored by Wangaratta Kebabs and Winsec Savings & Loans.   
Club members worked hard in the rain to set up the grounds, only to have the clouds part and the sun make a welcome return 10 minutes prior to the first event. Despite the rain, wind and even hail returning for occasional angry visits, the shooters stuck to the task and delivered some impressive scores. 
Event 1, the five pair Double Rise Eye Opener was a three way tie, with Mick Rocca, Jim Moustos and Daryl Hunt each scoring 8/10.
Event 2 was the 25 pair Double Rise. AA Grade: 1st and overall winner in this event, Patrick Guida 46/50. 2nd was a tie between Jacob Motha &, all the way from Mt Gambier, Warren Lindner 36/50. A Grade: 1st Jim Moustos 37/50. 2nd Michael Rowan 34/50. B Grade: 1st Peter Lang 33/50. 2nd Robert Demaria 30/50. C Grade: 1st Rebecca Clinton 30/50. 2nd Tom Davey 40/70.
Event 3 was the Wangaratta Kebabs 30 target Point Score. AA Grade: 1st and overall winner in this event, John Wojcik 93/96. 2nd Patrick Guida 86/90. A Grade: 1st David Luelf 87/90. 2nd Jim Moustos 86/90. B Grade: 1st Peter Gorrie 73/90. 2nd Bob Foster 71/90. C Grade: 1st Will Smith 69/90. 2nd Jono Leahy 67/90.
Event 4 was the Winsec Savings & Loans 30 target Double Barrel.  AA Grade: 1st, and overall winner in this event, Patrick Guida 49/50. 2nd Keith Willett 42/45. A Grade: 1st Jim Moustos 36/37. 2nd Mick Rocca 41/43. B Grade 1st Peter Gorrie 44/48. 2nd Robert Demaria 43/47. C Grade: 1st Jono Leahy, punching well above his weight for a C Grader, 48/48. 2nd Tom Davey 28/30.
The High Gun winners were, overall, Patrick Guida, veteran, David Luelf and junior, Tom Davey. Patrick, a former National High Gun champion & current NZ High Gun champion had travelled up with a group from Melbourne to acknowledge the effort made under testing circumstances by our club members and committee over the past couple of years. 
Sunday 12 August - Five Stand Competition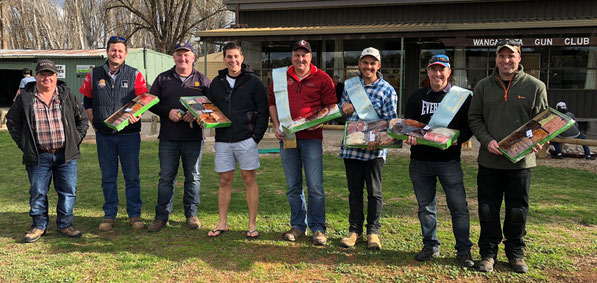 L to R:    Alan Seccull,  Harrison Sewell,  Martin Seymour,  Adam Shale,  Gino D'Angelo,  Jacob Motha, 
Rodney Green,  Christopher Grafton.
Clay Target Shooters Enjoy Perfect Conditions
Martin Seymour made the most of the ideal conditions to win the overall prize at the Wangaratta Clay Target Club's August Five Stand competition. The Yarrawonga shooter scored 99/110 to defeat Gino D'Angelo in a shoot off. 
After a week of wet and gloomy weather, clear blue skies greeted shooters from as far afield as Wagga, Finley and Kyabram to Sunday's shoot. The usual hard working committee members were up before the sparrows to configure an interesting layout of targets on two of the club's three grounds. Five Stand shooting simulates game animals, so the targets varied from high looping arcs to fast ground level runs.
In AA Grade, Martin Seymour's score of 99/110 beat Adam Shale's 98/110.
Gino D'Angelo took out A Grade with 98/110 from regular visitor Alan Seccull on 85/100.
A personal best score of 85/100 saw Jacob Motha take out B Grade from Harrison Sewell on 81/100.
Corowa shooter Rodney Green hit an impressive 75/100 to clinch C Grade, with Christopher Grafton in second with 67/100.
The combination of great weather, meat tray prizes, delicious canteen food and the excellent condition of the grounds, thanks to Bob Pigram, ensured that a great day was had by all.
The Wangaratta Clay Target Club, located behind the Vine Hotel at North Wangaratta, is open every Wednesday and Saturday afternoon for practice. Anyone interested is welcome to come out and have a look. Club members are always in attendance and are happy to discuss the club's activities. 
Saturday 21 July - Down The Line Competition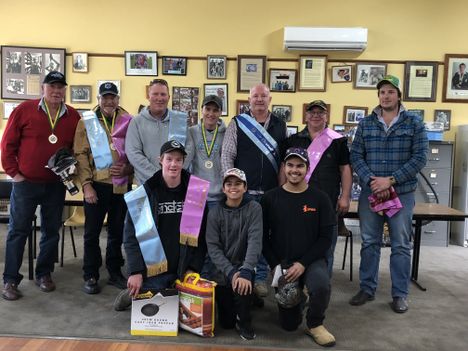 Back Row L to R: 
David Luelf;  Geoff McClure;
Geoff Shore;  Liam Shore;  
Darryl Johnston;
Peter Gorrie; Alex Gobbo.
Front Row L to R: 
Tom Davey;  Matthew Motha;
Jacob Motha.
Clay Target Shooters Rise to the Challenge
A sunny day greeted competitors at the Wangaratta Clay Target Club's July Down The Line shoot. Newly elected club president Anton Motha and son Jacob were up bright and early to join club stalwart Col Crittenden in ensuring that the grounds and equipment were ready for the big day ahead.
Events included a 10 target Eye Opener, a 30 target Continental Trap and a 50 target Point Score. In Continental Trap events, the clay targets are thrown faster and at more varied angles, providing an extra challenge.
In the 10 target Eye Opener, Geoff Shore won with 10/10, showing that the long trip up from Melbourne had not affected his aim.  In the 30 target Continental, Alex Gobbo came out on top in AA Grade with 28/30, closely followed by Jacob Motha on 27/30. Geoff McClure took out A Grade with 26/30 over David Luelf on 25/30. Peter Gorrie was the winner in B Grade with 25/30 with Geoff Shore 2nd on 20/30. Two impressive juniors fought it out in C Grade, Tom Davey winning with 22/30 over Matthew Motha on 17/30.
After a short lunch break, shooters tackled the 50 target Point Score event. AA Grade was won by Darryl Johnston on 146/150 from Angelo Grassi on 150/159. Geoff McClure triumphed in A Grade on 145/150 with Ray Gamble 2nd on 141/150. B Grade saw Geoff Shore back in the winner's circle with 126/150 followed by Peter Gorrie on 120/150. The battle of the juniors continued in C Grade, with Tom Davey once again coming out on top with 123/150 from the ever impressive Matthew Motha on 125/155.
The high gun winners were, Overall - Geoff McClure on 178/190; Veterans – David Luelf on 165/190 and Juniors – Liam Shore on 174/190.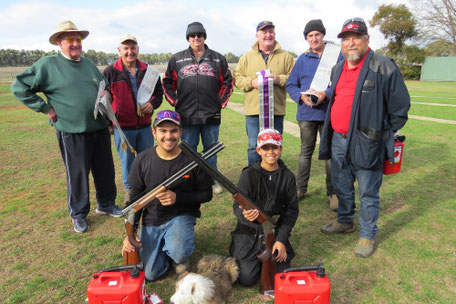 JULY SPORTING CLAYS SHOOT
SEYMOUR EXCELS IN COLD CONDITIONS
Cold, overcast weather was no deterrent for Yarrawonga shooter Marty Seymour at the July 5 Stand Sporting Clays Championship event held at Wangaratta Clay Target Club on Sunday the 8th.  AA grader Seymour, returned an excellent score of 91/100 over two 5 stand  layouts.  Thanks to Col Crittenden, Anton, Jacob and Matt Motha for putting in the early morning work to expertly set up the excellent variety of targets which kept shooters concentrating hard during the event.
Robert Yeo placed 2nd in AA with a tally of 86/100, maintaining a consistent approach throughout the day.  Local member David Jackel took out A grade on 72/100, he used a variety of guns and choke arrangements during the day to lift his scores, however once he settles on the right set up next time, his scores will show a marked improvement.  Marc Connell broke 68/100 taking 2nd in A grade. 
A shoot off in B grade between Jacob Motha and Trevor Bussell resulted in a win for Bussell on 86/110 with Motha on 81/110.  Veteran shooter and regular attendee at Wangaratta, Geoff Agnew took home the ribbon for C grade on 54/100 and junior top shot Matt Motha won 2nd by demolishing 52/100 targets.
Another top day of Sporting Clay shooting at the Wangaratta club.  Plenty of hot, tasty food on hand to warm everyone up thanks to Anita Klima.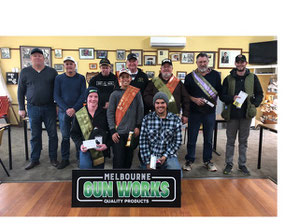 June Down The Line Championship.

WET, COLD CONDITIONS AT WANGARATTA.
The cold and wet weather conditions at the Wangaratta Clay Target Clubs June Down The Line shoot was no doubt responsible for the reduced number of enthusiastic competitors who turned up to brave the poor conditions on the day.  However, on a more positive note, the wet weather was gladly received by many farmers in the district after a dry spell leading up to the event.
The 10 tgt point score eye opener was shared amongst 5 shooters and was quickly followed by a 50 tgt point score championship event.  Daryl Hunt remained consistent throughout and won AA grade and overall with a top result of 148/150.  Jacob Motha was close on his heels taking 2nd place on an equally impressive score of 153/156.  Ray Gamble had a convincing win in A grade 143/150,  with Chris Climas scoring 134/150 taking 2nd.  B grade was won by Geoffrey Hogan 138/150 and junior shooter Matt Motha took home the sash in C grade 126/150, just ahead of Mitchell Parker 123/150.
A 50 tgt Double barrel championship was next up, resulting in a perfect score by Michael Rowan winning overall and AA grade,  Daryl Hunt placed 2nd on 86/87.  A grade was won by Lachlan McDonald 59/60, with Chris Climas in 2nd place on 58/60.  Geoffrey Hogan once again took out B grade 47/50.  An almost perfect tally of 49/50 was achieved by Tom Davey easily winning him C grade, placing Matt Motha in 2nd on 39/50.
The high gun winners were, Daryl Hunt O/all - 226/230, Veterans – Allan Cooper 223/230 and Juniors Lachlan McDonald 202/230.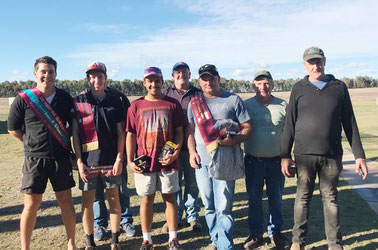 SHALE'S TOP EFFORT PAYS OFF 
13 May Five Stand
A lovely autumn day greeted shooters at the Wangaratta Clay Target Club May Sporting Clays shoot on Sunday 13th.  Volunteers from the club had been up early, expertly setting up the traps to cater for the different skill levels of this most challenging discipline.  
The club put on a lovely BBQ lunch for the competitors and some excellent scores were recorded on the day.  Both grounds were in full swing, and thanks to the enthusiastic efforts of a group of dedicated committee members the day went off perfectly.
Adam Shale took out overall and AA grade demolishing 95/100 targets, a truly astonishing result.  Adam was followed by another expert 5 stander, Marty Seymour winning 2nd in AA grade on 89/100.  Rhys McGauran performed extremely well by connecting with 92/100 targets in A grade, ahead of David Jackel on 86/100.  Marc Connell, a regular shooter here, shot 77/100 winning B, and Trevor Bussell took 2nd place on 70/100.  A close result in C grade saw Mark Large win the sash with 72/100, placing local shooter Jacob Motha in 2nd place on 70/100.
The club operates 5 stand championship events on the second Sunday of each month and encourages all ACTA registered shooters, both experienced and novices,  to enjoy the first rate facilities provided by the Wangaratta Clay Target Club.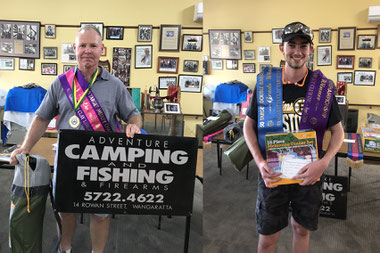 MEDLEY EVENT POPULAR AT WANGARATTA
21 April DTL
A total of seven squads of keen competitors arrived at the Wangaratta Clay Target Clubs April DTL Championship, held on Saturday 21st.  Once again,  North East Vic. turned on perfect weather conditions for the 110 target program on offer.  Some excellent results were recorded on the day, with the 50 tgt. Medley event once again proving very popular amongst the shooters on the day.
After a nice warm up shooting the 10 tgt single barrel eye opener, which was shared amongst six shooters, the club ran the Medley event.  This consisted of  25 tgts.single barrel and 25 points score format.  AA grade competitor Darren Clark took overall with the top result of 99/100 – well done Darren.  Nice to see local club member and keen contributor to all club activities, Jacob Motha win 2nd place on 98/100.  Greg Ganning had no trouble winning A grade on 95/100, ahead of David Luelf, a long time supporter of the club, on 113/120.  B grade was won by Neil Ham 92/100, placing Peter Gorrie in 2nd place on 106/120.  New member Mitchell Parker was pleased with his win in C grade 71/100, it will only take a short time before Mitch. will go up a grade or two as his experience increases.
Lastly, the 50 tgt. double barrel C/ship. was won by AA grader Carl Comensoli, after a grueling shoot off with Trevor Hicks.  Comensoli reigned supreme exercising perfect control by demolishing 136/136 clays, with Hicks finishing on 135/136.  A splendid performance by two very experienced shooters.  Greg Ganning remained consistent all day and won A grade again with a tally of 49/51, ahead of Alan Patten 48/51.  In a duplication of the first events winners, a score of 52/53 was enough for Neil Ham to win B, leaving Peter Gorrie in 2nd place, on 51/53.  Mitch. Parker was again successful in C grade, claiming another sash for his efforts with a result of 35/50.
The overall high gun winner was Darren Clark 158/160 and Veterans was Alan Patten 151/160.
The club recognizes and appreciates the support from Adventure, Camping & Fishing, Wangaratta, for providing the trophies at a discount rate.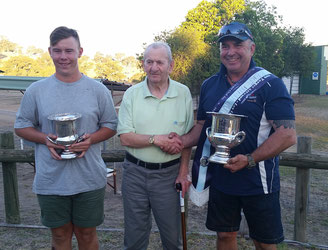 MCDONALD WINS COVETED ATTWOOD – LAW CUP & ZONE SKEET EVENT
Albury Wodonga Clay Target Club did a top job conducting the Riverina Zone and Attwood – Law Skeet Championship events in conjunction with each other, on Sunday 8th April.  The Attwood – Law event has been traditionally shot at the Wangaratta Clay Target Club, however due to lead contamination issues at this club, they are unable to run skeet events at present.  This is the second year that the event has been held at the Albury – Wodonga club, in recognition of the importance and history of the cup to many skeet shooters now for several decades.
It was great to have Bill Attwood attend this years shoot, thanks to Mario Marino for going out of his way to pick Bill up very early on Sunday morning and deliver him back to his home in Melbourne after the event.
Both Bill Attwood and the late Kevin Law were very keen skeet shooters for many years.  In particular,  Bill's contributions and generosity towards  skeet  and his promotion and encouragement of younger shooters  over many years, has made him a well respected and recognized figure both here and in New Zealand.
The club decided to combine the Riverina Zone Skeet Championship with the Attwood – Law event, which was a good and popular decision amongst all competitors on the day.  The weather conditions were very warm and fine and the targets presented were to the usual high standard that Albury – Wodonga are well recognized for.  Thank you to the group of enthusiastic and dedicated team of ladies for their high standard of food and snacks available during the day.  This very important task was recognized and appreciated by all.
The overall winner of the Zone event and the Attwood – Law cup was Mark McDonald, with an almost flawless result of 99/100.  Mark puts a lot of effort into his game and displays perfect control with his approach to every shot fired.  Gil. Farish took out AA grade one target behind on 98/100, leaving David Jackel from Wangaratta in 2nd place with 97/100.  Brian Reid shot 96/100 achieving a win for himself in A grade, just ahead of Shepparton – Numurkah member Peter Finn on 94/100.  Nice to see Royce Wojtowyez win B grade with a tally of 104/109, placing keen skeet shooter Ross Winnell in 2nd, on 103/109.  Junior shooter Ben Kuschert shot well all day to achieve 1st place in C grade 95/104, one target ahead of Trina Adams on 94/104.  It was nice to see Trina improve her scores as the day went on, she puts a lot of effort into her sport and deserves to do well.
At the conclusion of the event, Lesley Wojtowyez won the Ladies trophy, Ben Kuschert claimed the Juniors award and Robert Thorne took home the best veterans prize.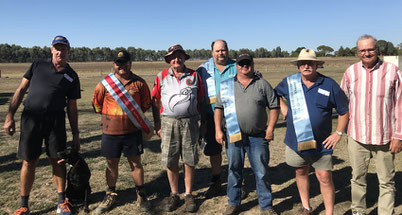 Seccull Succeeds Again at Wangaratta
08 April Five Stand
AA grade 5 stand sporting clays top shot Brodie Seccull, has won both the March and April competitions at the Wangaratta Clay Target Club.  Seccull's consistency, gun control and mental approach keeps him well on top of his game.  Brodie produced the remarkable score of 95/100 on Sunday 08th April here at Wangaratta, comfortably ahead of 2nd place getter and skilled veteran shooter Victor Bowman on 75/100.  A grader Alan Seccull demolished 80/100 clays winning the sash in that grade, with regular Wangaratta competitor Trevor Bussell in 2nd on 66/100.  Local member Ian Auranaune put in a good performance in B grade with a result of 71/100, placing his good friend Neil Plumridge in 2nd place on 56/100.  C grade was claimed by Gary Byron with a very respectable tally of 65/100.
Numbers were down somewhat this month, there are other shoots on in the area, and only so many shooters can attend their club of choice.  The club looks forward to building up this challenging discipline in due course, and encourages ACTA members to visit the excellent facilities on offer at North Wangaratta.
RESULTS - DTL C/ship.  17/03/18.
Attendance 13. 
Weather, Fine & hot.
Event 1, 10 tgt. P/S E/O.  -  4 poss.
Event 2, 50 tgt. P/S C/ship.
OA & AA, Micheal Rowan 147/150,  John Gemmill 138/150.
A, Graham Coyle 144/150,  Peter Watkins 142/150.
B, Bob Foster 134/150.
C, Riley Sandral 129/150,  Keith Brown 112/150.
Event 3,  25 tgt. H/cap.
1st - Riley Sandral 24/25,   2nd - Graham Coyle 34/36,   3rd - Micheal Rowan 33/36.
High Gun Winners - OA, Micheal Rowan 200/205,   Veteran - Graham Coyle 197/205,   Junior - Riley Sandral 179/205.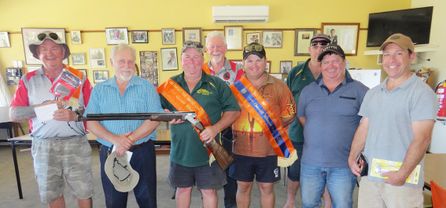 SECCULL TOP SHOT AT WANGARATTA
10 March - Five Stand
Hot and clear weather greeted shooters at the Wangaratta Clay Target Clubs March 5 Stand Sporting Clays competition.  Although numbers were back a little, perhaps due to the long weekend, the marksmen on the day certainly didn't lack any enthusiasm or finely honed skills at the 100 target event.  Sporting Clays are definitely a good  test of any shotgunners skills and the local club has the ability to provide for both experienced and novice levels at the range.
Largely due to the excellent skills of Col. Crittenden, Graham Coyle, Anton and Jacob Motha in setting up the two grounds early on the day, all shooters enjoyed an excellent range of targets to satisfy all abilities.  Thanks also goes to shooters from other clubs, that assisted at the end of the day in packing everything up before the presentations were made.
Brodie Seccull easily took out AA grade and overall with a brilliant score of 92/100.  David De Maria , a member of Finley Gun Club, soon moved from C grade to AA after his first 50 targets at this discipline, finishing in 2nd place on 89/100.  Regular visitor to the Wangaratta range, Victor Bowman, also remained on top of his game during the day, winning A grade with a tally of 89/100, placing Allan Seccull 2nd place on 84/100.  B grade was well won by Colin Kneebone 75/100, with Marc Connell blasting 73/100 in 2nd place.  Paul Weygood demolished 77/100 taking home the ribbon in C, leaving Barry Ellis in 2nd place on 66/100.
The club encourages all ACTA competition shooters to visit the excellent facilities at Wangaratta for an enjoyable days shooting.  Any non members can visit the club up to three times on practice days for a shot.  More details contact Brian Reid,  03 57217799.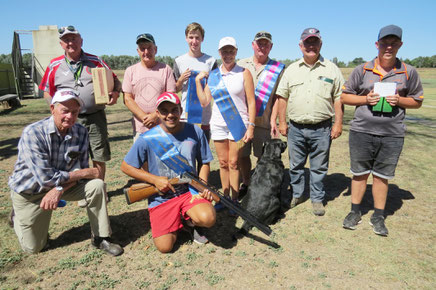 REYNOLDS TOP SCORER AT WANGARATTA
11 Feb Five Stand
The Wangaratta Clay Target Club ran a very successful 5 stand sporting clays shoot on Sunday 11th February.  The club is encouraged by a gradual increase in competitors attending to shoot this exciting and challenging discipline.  Wangaraata offers two layouts of expertly set targets, providing a satisfying experience to all skill levels.
AA grader Mark Reynolds expertly took out the overall title on the day, demolishing 87/100, ahead of local member David Jackel on 82/100.  Jackel has proven to be a good all-rounder at both skeet and sporting clays, and is always very receptive to accept advice and coaching from others to further improve his scores.  Junior shooter, Rhys McGauran proved his abilities in A grade hitting 79/100, just ahead of Victor Bowman on 78/100.  Nice to see husband and wife team and regular visitors to the club, Angela and Christopher Kloppenborg take home the trophies in B grade.  Angela shot consistently well during the event, bagging 72/100 ahead of Christopher on 62/100.  C grade winner and junior member who contributes in many positive ways to the suuceess of the club was Jacob Motha, winning himself another sash after breaking 76/100, one target in front of Ben Kuschert 75/100.
Best veteran on the day was hard working committee man Graham Coyle 79/100 with Rhys McGauran claiming the Junior trophy on 79/100.
20 January  DTL Shoot.
Very hot / fine.
10 tgt E/O  11 poss.
30 tgt DB C/ship. OA & AA,  Daryl Hunt 68/68,  Rob. Stackhouse 67/68.  A,  Tom Bilney 66/66,  Hayden Bevan 41/42.  B,  Rob. Foster 30/30,  Colin Repacholi 33/36.  C,  John Collins 27/30,  Barry Ellis 18/30.
30 tgt SB C/ship.  OA &AA,  Rob. Stackhouse 39/39,  Daryl Hunt 44/44.  A,  Thomas Bilney 30/30,  Bobby Lambevski 30/32,  B,  Colin Repacholi 29/30,  Rob. Foster 25/30.  C,  John Collins 22/30, Barry Ellis 21/30.
30 tgt Cont. C/ship.  OA & AA,  Daryl Hunt 30/31, Michael Rowan 29/30.  A,  Thomas Bilney 29/30,  Ricky Bilney 40/44,  B, Greg Ganning 25/30, Rob. Foster 23/30.  C,  John Collins 22/30,  Barry Ellis 18/30.
High Gun Winners - OA, Tom Bilney 108/110,  Vet - Rob Stackhouse 107/110,  Jnr. Lachlan McDonald.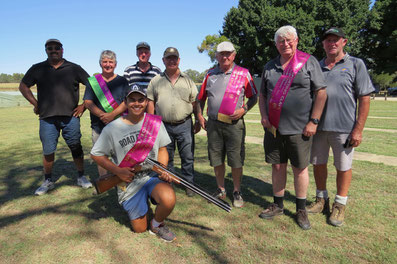 SPORTING CLAYS SUCCESS AT WANGARATTA
14 Jan Five Stand
Perfect weather conditions greeted shooters at the Wangaratta Clay Target Club grounds for the January 5 Stand Championship event on Sunday 14th.  The attendance was up on the previous shoot in November last year which was very encouraging for the club.
Enthusiastic club volunteers put a lot of thought and effort into setting up the traps on both grounds early in the morning.  At presentation time, several winners complimented the club on the way the excellent flight pattern of the targets were suited to all skill levels.  The entire event was conducted in the clubs usual friendly and relaxed style, encouraging the competitors to return for the excellent facilities available here in Wangaratta.
Local member David Jackel took out the overall sash with a result of 87/100.  The only target that challenged him was the rabbit on the second ground, however after some helpful advice from club member Brian Reid, he should overcome any further difficulties next time around.  Max Kavanagh placed 2nd in AA grade on 70/100.  Veteran shooter and regular attendee at Wangaratta, Victor Bowman produced an excellent tally of 83/100 taking out A grade, followed by Chris Kloppenborg on 69/100.  Colin Repacholi also put in a top effort smashing 75/100 winning him the B grade sash and Stephen Tamme shot 68/100 taking 2nd place.  Nice to see junior shooter and keen club volunteer Jacob Motha win C grade on 75/100, leaving his dad Anton in 2nd place with 66/100.
The club will hold monthly 5 stand shoots throughout 2018 on the 2nd Sunday of each month and encourages shooters to come along and enjoy the first rate facilities on offer.
Please contact Brian Reid 03 57217799 for more information.